IN CONSTANT EVOLUTION
In 4 decades, the sector has experienced market fluctuations and reinforced its commitment to Sustainable Development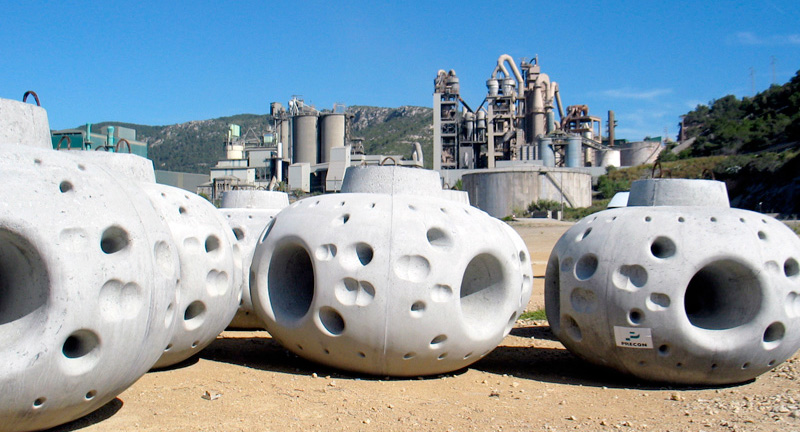 The Catalan Cement Manufacturers Association (which operates with the brand "Ciment Català") was established on March 25, 1979 to develop a dual technical function and of representation of the (at that time) 9 operating factories.
During this time, the situation of the associated companies, the social and economic dynamics of the country, and own evolution have positioned Ciment Català as a sectorial entity of reference for public administrations, professionals, the business community and for the whole society, final recipient of the most used construction material of the planet: cement.
Throughout almost 4 decades of history, the sector has experienced high market moments and constantly reinforced – and in a convincing way, with millionaire investments – its commitment with a Sustainable Development.
8 FOUNDING COMPANIES
The founding partners of Ciment Català were:
Asland S.A.
Cementos de Fígols S.A.
Cementos del Mar S.A.
Cementos Molins S.A.
Cementos Uniland S.A.
Compañía Catalana de Cementos Portland S.A.
La Auxiliar de la Construcción S.A.
Materiales Hidráulicos Griffi S.A.
The need to gain size for competitiveness has provoked the consolidation of the sector during the last decades of our history, and the consequent business concentration. Today, there are 4 companies producing clinker and cement in Catalonia and which are associated with Ciment Català: Cementos Molins S.A., Cemex España Operaciones S.L.U., Lafarge Cementos S.A.U. – LafargeHolcim Group and Cementos Portland Valderrivas Group.
PRESIDENCY AND HEADQUARTERS
Throughout its history the entity has had the following presidents:
1979-1992: Santiago Fradera Butsems
1992-1994: Joan Molins Amat
1994-2000: Enric de Bobes Pellicer
2000: Luis Barallat López
2000-2001: Manuel Rodríguez Quevedo
2001-2010: Antoni Crous Millet
2010-2016: Àngel Cercós Casalé
2016-actualidad: Salvador Fernández Capo
On the other hand, in its almost 40 years of life, Ciment Català has developed its activity in three different venues, always in Barcelona: Via Laietana, 28 (1979-1986); Josep Tarradellas avenue, 123 (1986-1994); and finally in its actual address in Valencia street, 245.
CRONOLOGY: MAIN MILESTONES